Nash Ceramic Poker Chip Set
Description
The Nash Ceramic Poker Chip Set designed for Texas Hold'em is a high-end product series built for players who require a higher-quality feel for chips.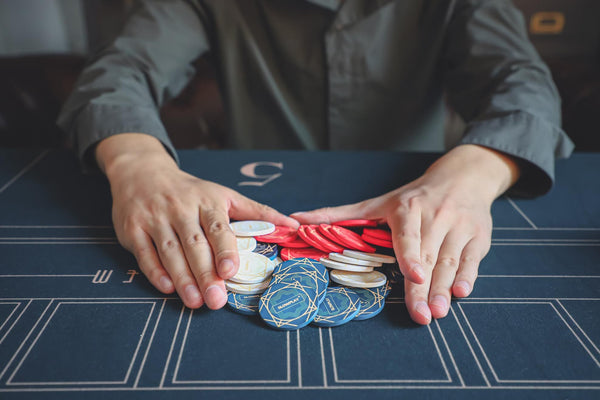 Core Features
CHIP CARRYING CASE: We're re-defining what a good case should look like. The outer shell is made of German Bayer Polycarbonate material, crafted from one-piece injection molding, making it extremely durable. It also includes a custom aluminum alloy frame, zinc alloy lock, and large leather handle. The hand-made chip case features inner support, and PU leather packaging materials. Super portable with full-body black material.
EXCEPTIONAL HANDLING: Chips are 10 - 12 grams in weight, manufactured with professional quality. It comes with playing cards which are designed with a slightly textured back and a matte finish. Cards are easy to handle. No matter you are dealing, shuffling, mucking, or picking them up; a smooth underside allows the playing cards to slide perfectly across any surface.
ART & CRAFTSMANSHIP: The design of the chip pattern is inspired by the Art Deco art style of the early 20th century. The streamlined lines and simple geometric composition perfectly combine the grandeur of the roaring 1920s and contemporary simplicity to elevate the poker experience to a new level.
Product Details
Quantity Ratio: Based on the actual usage ratio of the number of chips, the 300-chip set meet the needs of a 7-8 person game, and 500 chips easily meet the needs for 9-10 people.
300 PCS CHIP SET (Blank Chips): 100 White, 100 Green, 50 Red, 50 Black.
500 PCS CHIP SET

 

(Blank Chips)

: 150 White, 200 Green, 100 Red ,50 Black.
300 PCS CHIP SET (Numbered Chips):

$1-100 Chips, $5-100 Chips, $25-50 Chips, $100-25 Chips,$500-25 Chips.

500 PCS CHIP SET (Numbered Chips):$1-150 Chips, $5-150 Chips, $25-100 Chips, $100-50 Chips,$500-25 Chips,$1000-25 Chips
For each Nash ceramic chip, there are two size variations:
Diameter: 39mm/43mm
Weight: 10g / 12g
*We do not offer customization service for the poker chip sets. If you would like to add more chip variations to your game, you may check out our individual chip sections.
Start A Return
We're bummed if you're not 100% satisfied with the items you received, and we gladly accept returns within 15 days of receipt for most items in new condition.
How do I return?
Get in touch with our customer service representative by sending us your ticket in your account via support@slowplayglobal.com. Indicate which item(s) you would like to return and the reason for your return. We'll get back to you within 48 hours.
Once you have received our confirmation and instructions about how to return your item(s), place the item(s) in the original packing and seal the parcel securely.
Drop off your package at the local post office.
Upon receipt of your package, we will promptly process an exchange or issue a refund to your account in accordance to our return conditions.
Return Conditions
You have 15 days to decide if an item is right for you, if not, you can certainly come to us within 15 days of receipt.
However, please note the following exceptions to our return and exchange policy:
discounted items are final and cannot be returned or exchanged
returned items must be in their unused condition with the original packing.
returned items must not be worn, damaged, washed or altered in any way.
we do not accept returned items that were sent back by you directly without checking with us first.
we do not accept packages returned using C.O.D. service.
Return shipping charges are non-refundable.
Shipping Policy
DOMESTIC ORDERS
Even though our goal is to bring SLOWPLAY to the whole world. Currently we only offer complimentary shipping for countries and regions we list on the page.
We strive to process and ship your order as quickly as possible so once an order is submitted, it cannot be changed. Learn more about our order return process and if you need additional assistance, please get in touch with our customer service department.
Please be aware that we are not able to decide which delivery service provider to handle a specific order. All the carriers will be assigned with orders based on shipping address. If you need additional assistance, please get in touch with our customer service department and confirm further details before you place an order.
Countries and Regions We Ship to:
1. For all orders within the 48 contiguous United States, as well as Alaska, Hawaii (except Puerto Rico). Here's the full list of states SLOWPLAY currently ships to:
Pennsylvania, Oregon, Oklahoma, Alabama, Arizona, California, Arkansas, Connecticut, Colorado, Florida, Delaware, Vermont, Georgia, Utah, Texas, Idaho, Tennessee, South Dakota, Indiana, South Carolina, Illinois, Rhode Island, Kansas, Washington, Iowa, Virginia, Louisiana, Kentucky, Maryland, Maine, Michigan, Massachusetts, Mississippi, Minnesota, Montana, Missouri, District of Columbia, Nevada, Nebraska, Wyoming, New Jersey, Wisconsin, New Hampshire, West Virginia, New York, New Mexico, North Dakota, North Carolina, Ohio, Alaska, Hawaii.
2.  For all orders within Europe, complimentary shipping is offered to the following countries: Austria, Belgium, Bulgaria, Cyprus, Czech Republic, Denmark, Estonia, Finland, France, Germany, Greece, Hungary, Ireland, Italy, Latvia, Lithuania, Luxembourg, Malta, Netherlands, Poland, Portugal, Romania, Slovakia, Slovenia, Spain, and Sweden.
3. For all orders within Japan, complimentary shipping is offered to most prefectures except Okinawa. Remot shipping fee may applied for orders shipping to Okinawa. Orders placed before 11 a.m. (GMT+8) will ship the same business day. Orders placed after 11 a.m. (GMT+8) will ship the next business day.
4. For all orders within the United Kingdom and Australia, complimentary shipping is offered.
We will process your orders based on the time sequence of all order placed. Once the items have left our warehouse, our free shipping service usually takes 5-7 days to deliver your order, given that it is not during holiday season or impacted by other unexpected incidents. However, we are unable to guarantee a delivery date. If you have any question about the shipping status of your order, please feel free to get in touch via support@slowplayglobal.com or you may also contact specific carrier once your tracking information is updated for more details.
Please also note that we cannot ship to PO Boxes or any FPO/APO addresses.
Reviews
Some most common concepts and principles that could help you work out the probabilities of being dealt various hands in Pre-flop. Make it your stepping stone to more advanced strategies.
Straddle is a blind bet that players voluntarily put in before the cards are dealt in the game. It is an almost inevitable game element in live cash games that we need...
Don't forget that poker is a game of skill. If you find yourself in a situation where you are overloaded with all the strategies but you still do not know what to do, try...