Description
The first professional and hobbyist poker set. The SLOWPLAY engineering and design teams spent 18 months building this professional quality product, and every detail has been crafted with the upmost attention to help players enjoy the games that they love.
Core Features
CHIP CARRYING CASE: We're re-defining what a good case should look like. The outer shell is made of German Bayer Polycarbonate material, crafted from one-piece injection molding, making it extremely durable. It also includes a custom aluminum alloy frame, zinc alloy lock, and large leather handle. The hand-made chip case features inner support, and PU leather packaging materials. Super portable with full-body black material.
EXCEPTIONAL HANDLING: Exquisite craftsmanship of the poker chips thanks to a double injection, iron core, and a weight of 14 grams. Plastic playing cards are designed with a slightly textured back and

 

a matte finish so they are

 

easy to handle. No matter you are dealing, shuffling, mucking, or picking them up; a smooth underside allows

 

the cards

 

to slide perfectly across any surface.
ART & CRAFTSMANSHIP:  The design of the set was inspired by the Art Deco style of the early 20th century. The symmetrical and simple geometric composition perfectly combine the grandeur of the roaring 1920s and contemporary simplicity to elevate the poker experience to a new level.
Product Details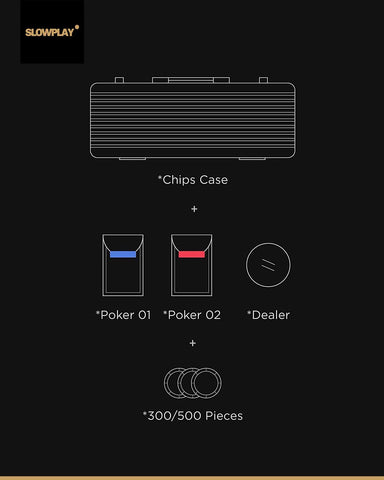 Quantity Ratio: Based on the actual usage ratio of the number of chips, the 300-chip set meet the needs of a 7-8 person game, and 500 chips easily meet the needs for 9-10 people.
All poker sets include: 2 decks of SLOWPLAY plastic playing cards and 1 dealer. We do not provide small blind and big blind button.
300 PCS CHIP SET: $1-100 Chips, $5-100 Chips, $25-50 Chips, $100-25 Chips,$500-25 Chips. 

300 PCS CHIP SET (Blank Chips): 100 White, 100 Red, 50 Blue, 50 Gold. 

500 PCS CHIP SET: $1-150 Chips, $5-150 Chips, $25-100 Chips, $100-50 Chips,$500-25 Chips,$1000-25Chips.

500 PCS CHIP SET  (Blank Chips): 150 White, 200 Red, 100 Blue ,50 Gold. 
For each Nash clay chip:

Diameter: 40mm
Thickness: 3.2mm
Weight: 14g
*We do not offer customization service for the poker chip sets. If you would like to add more chip variations to your game, you may check out our individual chip sections.
Start A Return
We're bummed if you're not 100% satisfied with the items you received, and we gladly accept returns within 15 days of receipt for most items in new condition.
How do I return?
Get in touch with our customer service representative by sending us your ticket in your account via support@slowplayglobal.com. Indicate which item(s) you would like to return and the reason for your return. We'll get back to you within 48 hours.
Once you have received our confirmation and instructions about how to return your item(s), place the item(s) in the original packing and seal the parcel securely.
Drop off your package at the local post office.
Upon receipt of your package, we will promptly process an exchange or issue a refund to your account in accordance to our return conditions.
Return Conditions
You have 15 days to decide if an item is right for you, if not, you can certainly come to us within 15 days of receipt.
However, please note the following exceptions to our return and exchange policy:
discounted items are final and cannot be returned or exchanged
returned items must be in their unused condition with the original packing.
returned items must not be worn, damaged, washed or altered in any way.
we do not accept returned items that were sent back by you directly without checking with us first.
we do not accept packages returned using C.O.D. service.
Return shipping charges are non-refundable.
Shipping Policy
DOMESTIC ORDERS
Even though our goal is to bring SLOWPLAY to the whole world. Currently we only offer complimentary shipping on all domestic orders within the 48 contiguous United States, as well as Alaska, Hawaii, and Puerto Rico. Here's the full list of states SLOWPLAY currently ships to:
Pennsylvania, Oregon, Oklahoma, Alabama, Arizona, California, Arkansas, Connecticut, Colorado, Florida, Delaware, Vermont, Georgia, Utah, Texas, Idaho, Tennessee, South Dakota, Indiana, South Carolina, Illinois, Rhode Island, Kansas, Washington, Iowa, Virginia, Louisiana, Kentucky, Maryland, Maine, Michigan, Massachusetts, Mississippi, Minnesota, Montana, Missouri, District of Columbia, Nevada, Nebraska, Wyoming, New Jersey, Wisconsin, New Hampshire, West Virginia, New York, New Mexico, North Dakota, North Carolina, Ohio, Alaska, Hawaii, and Puerto Rico.
While our complimentary shipping service usually takes 5-7 days to deliver your order, priority shipping is available for an additional fee and it usually takes 2 business days once your order has left our warehouse. However, we are unable to guarantee a delivery date. If you have any question about the shipping status of your order, please feel free to get in touch via support@slowplayglobal.com
Please also note that we cannot ship to PO Boxes or any FPO/APO addresses.
Reviews
Is poker a game of skill or pure luck? Experience is important, but why not spend some time to learn some basic poker math knowledge? Use it as a stepping stone that leads...
The check-raise is a must-have skill for your game. By using it properly, you could take the initiative to determine the size of the pot as well as maximize your opponent's pressure.
Poker tell is a particularly interesting topic which is not like mathematical knowledge and advanced strategies that bring you immediate profits, but it will allow you to have fun in the game,...